Mesin shrink ialah salah satu mesin kemasan yang banyak digunakan dalam proses pengemasan. Mesin ini memiliki cara kerja dengan memberikan efek menyusut pada plastik, sehingga bisa dibentuk sedemikian rupa mengikuti pola dan bentuk yang diinginkan.
Mesin kemasan ini banyak dimanfaatkan oleh industri besar, seperti minuman, makanan, dan lain-lain. Mesin ini mampu mengemas produk baik dalam satuan maupun dengan jumlah banyak.
L Seal Cutting Machine BSL-5045L bergaransi resmi dengan harga termurah dan sparepart terlengkap. L Seal Cutting Machine BSL-5045L ini bertenaga daya listrik 1,2 kW. Serta Packing Speed 800-1200 pcs/h dan Max. Packing Size (L×W×H) 450×400×300 mm. Juga memiliki bobot mesin 125-135 kg. Segera hubungi kami untuk jenis & tipe mesin yang anda cari.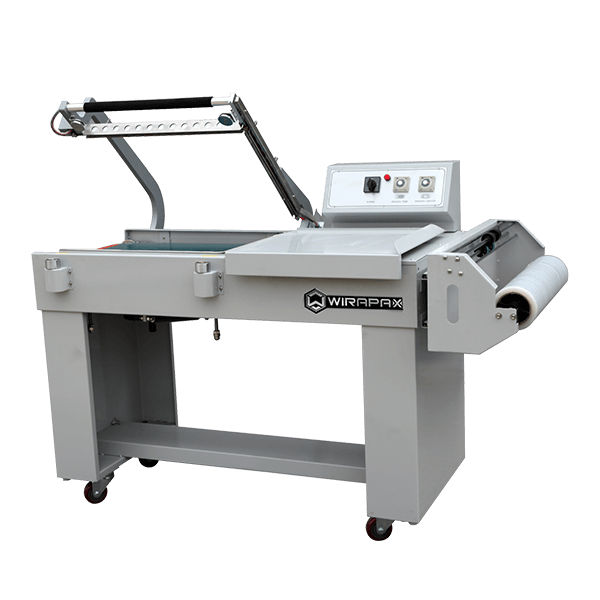 Keunggulan:
1. Menggunakan "nano-fiber cutter holder" dan "anti-sticking thermo-stable nichrome cutter".
2. Rol yang didesain khusus , menggunakan pin untuk menghasilkan lubang kecil difilm untuk melepaskan udara.
3. Konsumsi daya rendah, hanya 2.5kwh.
4. Pemotong plastik tahan lama.
5. Dapat dipindah-pindahkan atau ditempatkan di tempat yang sama.
6. Dapat dioperasikan terus menerus untuk jangka waktu lama tanpa overheating.
Features:
1. There is protection mechanism for sealing knife against overheating and cutting.
2. Adopt nano-fiber cutter holder and antisticking thermostable nichrome cutter for sealing & cutting to ensure good sealing without cracking or coking.
3. After sealing action, packing product goes in the shrink tunnel automatically by the conveyor belt.
4. The height of conveyor belt can be adjusted with handwheel.
5. Sealing & cutting time is controlled by time relay accurately.
6. Double electromagnets are used to produce more pressure for sealing, which will make sealing much firmer.
7. Sliding film support can keep all kinds of shrink films, up to 550mm in width.
8. Upper sealing & cutting frame is controlled by return cylinder.
9. BSL-5045LA adopt pneumatic device.
Application:
1. BSL series semiautomatic L-seal cutting machine is suitable for shrink packing electronic products, hardware, software, foodstuff, printing, pharmacy, floor, ceramics etc in small amount.
2. Applied to all kinds of packing materials, such as PVC, POF, PP.