Carton Sealer Taiwan
Carton sealer merupakan salah satu mesin yang sering sekali digunakan dalam proses pengemasan karton atau produk-produk yang disimpan di dalam sebuah dus. Mesin ini memiliki fungsi kesatuan yang lengkap, yaitu untuk mengemas karton dengan cara melipat, membentuk karton atau kardus, hingga melakukan penyegelan seperti pada mesin vacuum sealer .
Penyegelan dilakukan setelah semua produk diisikan ke dalam karton secara rapi dan sesuai dengan kriteria produk. Produk di dalam karton yang telah ditata sedemikian rupa akan terjaga keamanannya selama karton tidak rusak, atau sobek.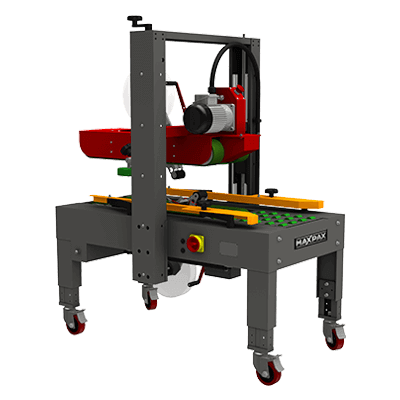 Carton Sealer Taiwan bergaransi resmi dengan harga termurah dan sparepart terlengkap. Carton Sealer Taiwan ini bertenaga daya listrik sebesar 1 Phase, 110/220V, 50/60Hz. Juga memiliki Height of Table 570-810 mm. Serta memiliki bobot mesin 160 kg. Jika anda tertarik dengan mesin carton sealer yang kami tawarkan, segera hubungi kami untuk informasi lebih lanjut.
TB: Top and Bottom Belt Drive
Entry upgrade from manual sealing. It is easy to operate, also speeds up capacity, ideal for may applications.
Suitable for Tall/Slim shaped boxes
Mechanical Aspect:
Both side compression rollers
Top mast with cushion
Two-side guiding rail
Casters with brake
Manual adjustment for different box sizes
The belt system, contain of belt width (72mm) and roller size (Ø102mm), the belt sruface area provides higher friction hence no-slip.