Automatic Weighing Filling Machine 200 g
Automatic Weighing Filling Machine 200 g bergaransi resmi dengan harga termurah dan sparepart terlengkap. Automatic Weighing Filling Machine 200 g ini memiliki Filling speed: 10-25 times / min 600 bags / hour (depending on materials and different weight), Dimensions : 38 × 32 × 52cm. Serta Weight: 15 Kg. Segera hubungi kami untuk jenis & tipe mesin yang Anda cari.
Mesin ini dioperasikan secara otomatis dengan teknologi komputerisasi dan mekanikal. Automatic Weighing Filling Machine memiliki fungsi pengisian produk dengan ciri partikel-partikel kecil, seperti beras, biji kopi, dan teh. Produk terlebih dahulu akan dimasukkan ke timbangan menggunakan vibrator. Mesin ini tidak direkomendasikan untuk produk seperti tepung dan sejenisnya karena akan menyebabkan produk berterbangan dan menyulitkan pembersihan pada mesin.
Untuk menjamin kualitas mesin filling, kami juga menyediakan layanan after sales didukung tim teknisi terbaik dan berpengalaman, sehingga jika terdapat kendala atau terjadi kerusakan pada mesin, Anda bisa langsung menghubungi Customer Service kami untuk melakukan klaim garansi. Tidak hanya itu, Anda juga akan mendapat training gratis seputar cara pengoperasian dan tips merawat mesin filling yang baik dan benar untuk meminimalisir kerusakan pada mesin.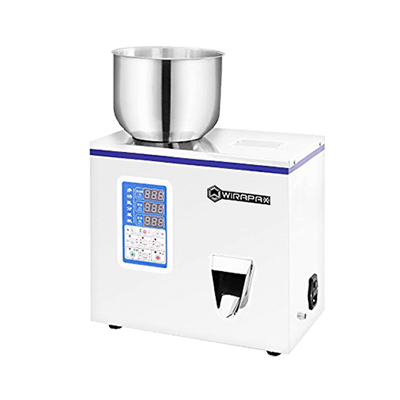 This product has been excellent engineers carefully study design, the use of microcomputer control of optical technology, high accuracy, fast, good quality, solve the traditional tea packaging tedious process. An automatic dosers several labor equivalent amount of tea production and tea shop is a good helper.
Applicaton :
Suitable for tea, food, food, seeds, fruit, grain shape chemicals and pharmaceuticals, micro and small components such as general non-sticky solid materials.
Features:
1: microcomputer control self-energy, so that more precise and accurate dispensing, fast, fully automated dispensing process.
2: The contact material parts all stainless steel, no contaminated material.
3: double shock structure, the machine is running smoothly, low noise
4: small size, light weight..
5: minimal power, energy conservation..
6: oblique throwing feeding, do not squeeze the material damage, especially for fragile materials packaging.
7: Show Package weight and number of packages.
8: Adjustable packing speed.
9: Set weighing excessive alarm.
10: stainless steel, never rust.